Culver City Armed Guard Positions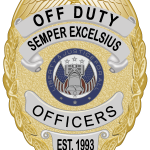 Security Guard Position Full-time
Payrate: $28.50 per hour
Locations: Culver City, CA
Off Duty Officers is hiring security guards with Law Enforcement experience in your area. Candidates must have a valid CA security license, proof of vaccination with booster.
Please submit a recent resume with a valid contact number to be considered for this position.
Duties include frequent, high visibility foot patrols, observe/report incidents and maintenance concerns, de-escalation of high-risk situations. Site-specific duties may vary.
Off Duty Officers, Inc. prides itself in its family-owned, operated, and oriented work environment. Inquire within to discover a better way to be employed in the security industry by an organization that treats you with respect.
Here at Off Duty Officers, you are a valued member of our extended family and not just a number as with many of our large corporate competitors. Loyal professionals are rewarded with job stability, performance recognition, and exceptional management support.
Apply Today!
Thank you,
ODO Management
—————————————-
Benefits:
Schedule:
8-hour shift
Day shift
Monday to Friday
Requirement:
Applicant must be fully vaccinated and with a booster against COVID-19 per the requirement of the client.
Education:
High school or equivalent (Preferred)
Experience:
Security: 1 year (Required)
Law enforcement: 1 year (Required)
License/Certification:
Driver's License (Preferred)
Guard Card (Required)
Work Location:
Employment Type
Full-time