Owned by retired Law Enforcement. Offering the best Thousand Oaks fire watch services required at affordable prices.
When Other Companies Can't
Off Duty Officers Can
Choosing Thousand Oak's Top Rated Fire Watch Security Provider
When it comes to reliable and excellent fire watch security guards, Thousand Oaks customers choose Off Duty Officers. We ensure the highest level of fire safety protection offered in the industry. When fire equipment is installed or is down for any reason, our skilled, licensed, and bonded fire watch security guards approach their role masterfully. Thousand Oaks residents and businesses are not willing to take the risk of not choosing the most respected fire watch security provider because, in this city, safety matters. Our qualified fire watch guards keep meticulous activity logs and ensure compliance with all building safety protocols, including notifying occupants. Our fire watch personnel's extensive training and experience allows Thousand Oaks businesses to rest knowing any emergency communications will be professional and emergencies will be handled seamlessly. Our fire watch safety guards always arrive ready to prevent fire outbreaks and protect.
Fire Watch Security Is Mandated in Thousand Oaks
There are several scenarios when fire watch safety security personnel are required in Thousand Oaks Fire Code. All fire watch safety is to mitigate fire risks during equipment malfunctions, installations, as well as hot work processes and welding. Some of the more common fire watch requests are:
Fire Safety Equipment Offline – during installation, demolition, equipment maintenance, or malfunctions.
Welding and Hot Processes Work - typically on construction sites and manufacturing facilities.
Special, Over-Occupancy Events – when an event or crowd is expected to exceed fire code occupancy limits or obstruct emergency escape plans.
Tenant or Occupancy Type Changes – if a building changes from business to educational, low hazard (assembly) to high hazard, etc.
Request Fire Watch Services Quote Today
Short or long term nationwide security guard services, reliably, affordable, and carefully tailored to your precise needs.
Fastest Thousand Oaks Fire Watch Security When It Counts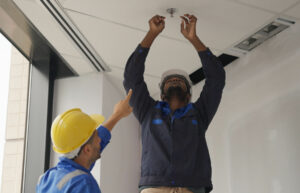 Sometimes fire watch needs can be anticipated, and other times the need is last minute. Suppose your contractor expects safety equipment to be offline for installation, demolition, or tenant occupancy changes. In that case, you need ready-to-go trained fire watch security guards, and Off Duty Officers have the best team serving Thousand Oaks. Our guards will remain on site from opening until the last occupant is off the premises and provide 24-hour watches when safety equipment is offline after hours. Our team is trained to provide focused and exceptional fire watch safety day and night.
Thousand Oaks Ranks Off Duty Officers at the Top for Fire Watch Security
Off Duty Officers, Inc. has trained fire watch personnel on call and ready to dispatch 24 hours a day, seven days a week. Our experience working in Thousand Oaks ensures compliance with fire code requirements and exceeds safety expectations for businesses, school campuses, construction sites, and warehouses.
We do not require a contract for our Thousand Oaks customers and are standing by to give a fast, free quote to meet and exceed your fire watch security needs. Off Duty Officers, Inc. understands Thousand Oaks businesses must employ fire watch security in many scenarios, and we pride ourselves on affordable and high-quality security guards. When your safety equipment is offline, you have hot work or welding scheduled, or your fire safety equipment is not working correctly, Off Duty Officers understands the urgency of getting fire watch security guards out quickly. Only Off Duty Officers, Inc. can immediately dispatch high-quality, skilled fire watch security guards.
When other companies can't, Off Duty Officers can, and we guarantee it. Contact us today!
Off Duty Officers have provided Fire Watch to small and enterprise businesses in the United States since 1993. Our Fire Watch team is respected as the USA's leading fire watch company.
Request an Instant QUOTE...
Short or long term nationwide security guard services, reliable, affordable and carefully tailored to your needs.