Owned by retired Law Enforcement. Offering the best San Francisco fire watch services required at affordable prices.
When Other Companies Can't
Off Duty Officers Can
Hiring the Top Fire Watch Security Service in the Industry
San Francisco depends on high-quality and experienced fire watch security personnel to provide the best protection when hot work processes are scheduled, or safety equipment is offline. San Francisco Fire Code requires all demolition and construction sites to have trained Fire Watch security personnel onsite from start to finish on projects when safety equipment is offline. Whether an unexpected outage or regularly scheduled maintenance of safety equipment, Duty Officers quickly dispatched top-rated fire watch security personnel and ensured companies followed San Francisco's Fire Watch requirements. Do not take unnecessary risks when it comes to fire watch security and call today to get your fire watch team in place.
Off Duty Officers have professional fire watch security coordinators standing by and offer a free quote that fits any budget. Off Duty Officers is the only San Francisco Fire Watch Security company with decades of experience. There is no better option than Off Duty Officers for your San Francisco fire watch needs. Take the first step and contact Duty Officers today and provide the highest level of fire watch safety and eliminate risks of fire outbreaks in San Francisco.
San Francisco experiences severe droughts, and fire safety is something that is highly important to residents and businesses in the area. San Francisco Fire Code mandates fire watch security because a fire breaking out can devastate San Francisco and surrounding areas. San Francisco provides free safety checks for businesses, and when things are identified that need to be fixed, this is when fire watch safety is required and critical. Anytime safety equipment is installed, upgraded, or maintenance is performed, safety equipment will be down. It is vital to have qualified, focused, and qualified professional fire watch security guards onsite to identify risks and mitigate any situations that occur. Off Duty Officers understands San Francisco fire code regulations and consistently meet and exceed expectation for fire watch safety services.
Off Duty Officers go above and beyond on Fire Watch Safety assignments and guarantee the highest level of safety.
What Exactly are San Francisco Fire Watch Services?
Fire watch is mandated in San Francisco as a mitigation effort when:
Fire safety equipment is not working or is damaged.
During the building or demolition of a facility or construction site.
For occasions when the use of the building is different than the classified occupancy type.
During welding and other hot work processes in a construction site or facility.
Or for special events.
San Francisco mandates fire watch in many scenarios, and Off Duty Officers are the preferred fire watch safety provider in San Francisco and surrounding areas. Fire Watch security is necessary when safety equipment is down for maintenance or an unscheduled malfunction. Maintenance and replacement will require safety equipment to be offline, and this is when the risk is high and must be watched by a professional and experienced Fire Watch Safety Security Guard.
Demolition, new construction, and tenant changes all require fire watch security because safety equipment will inevitably be down for a time. Fire watch security guards must be trained in fire watch to ensure safety. Other scenarios where fire watch security is critical is when hot work processes and welding are scheduled. San Francisco takes no risks regarding fire safety, which is why Off Duty Officers, Inc. is the most requested fire watch safety security provider serving San Francisco. Our customers in San Francisco deserve the best fire watch security guards available, and we pride ourselves on the expertise and professionalism of our trained security personnel.
Whether planning fire watch for a large corporation, a small business, an event that will exceed occupancy limits, or scheduled maintenance of safety equipment, Off Duty Officers has the quickest turnaround time from request to dispatch and only sends the highest quality fire watch security guards to San Francisco customers. Off Duty Officers, Inc. has over 30 years of experience serving San Francisco and surrounding areas with excellent fire watch security guards. San Francisco emergency services rely on the consistently high quality of Duty Officers and security guards.
Request Fire Watch Services Quote Today
Short or long term nationwide security guard services, reliably, affordable, and carefully tailored to your precise needs.
Our Exceptional Fire Watch Security Services Put San Francisco Customers at Ease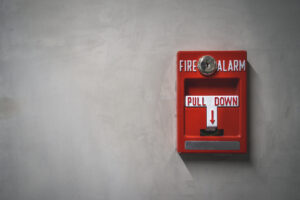 Off Duty Officers, Inc. provides peace of mind, which is valuable beyond money. Throughout Fire Watch services, San Francisco businesses rely on our highly trained and experienced fire watch security guards because they specialize in fire watches and ensure compliance and the highest level of safety available. Fire watch security is necessary whenever safety equipment is down, unexpectedly, or planned, and can save lives. Duty Officers work closely with San Francisco safety agencies and have the reputation of quickly dispatching highly qualified fire watch security personnel. As soon as our trained fire watch security guards arrive, they will assess risks, work closely with safety personnel, and continually monitor the site to ensure the highest level of safety.
The Leading Fire Watch Provider in San Francisco
We provide professional 24-hour fire watch services to businesses throughout San Francisco who wish to remain compliant with all fire marshal codes and regulations. Our security guard firm provides fire watch to warehouses, businesses, academic institutions and construction sites that require 24/7 fire watch services. 
Businesses must employ fire watch services to comply with all fire codes when fire safety equipment, such as sprinklers or an alarm system, are inoperable or damaged. Off Duty Officers are specifically trained in delivering emergency fire watch to businesses and construction sites that are integrating a fire protection system or are having issues with their current fire safety systems.
Off Duty Officers, Inc. was formed by retired law enforcement officers more than 30 years ago, and they are a committee for top-level safety in San Francisco. Every fire watch security guard is bonded, licensed, and trained explicitly in fire watch. Off Duty Officers understand it is critical to comply with San Francisco's fire code and work diligently to exceed customer expectations. We guarantee the highest quality fire watch safety in San Francisco.
So, whether your fire watch need is something you planned for or came up unexpectedly, contact Off Duty Officers for the best security team in San Francisco.
Anytime you need Fire Watch Security, Off Duty Officers will always come through for you!
Request an Instant QUOTE...
Short or long term nationwide security guard services, reliable, affordable and carefully tailored to your needs.