Owned by retired Law Enforcement. Offering the best Orange County fire watch services required at affordable prices.
When Other Companies Can't
Off Duty Officers Can
Hiring the Fire Watch Industry's Leader in Security Services
Orange County relies on the experienced Fire Watch team members from Off Duty Officers to provide the best protection when safety equipment is offline or when hot work processes are scheduled. Orange County Fire Code requires construction and demolition sites to have trained Fire Watch onsite throughout the project when equipment is offline for any reason. In an unexpected safety equipment outage, only Off Duty Officers can quickly dispatch a fire watch security guard and ensure compliance with Orange County's Fire Watch requirements. Don't take risks and wait until the last minute to get your fire watch team in place. Instead, contact Off Duty officers today to get a free quote and secure your Fire Watch team with decades of experience in Orange County. There simply is no better option for fire watch services to provide safety and eliminate the risks of a fire breaking out in Orange County.
Orange County can go through extreme droughts, and fire safety is something they take seriously. Fire watches are mandatory in many instances because a fire breaking out could devastate Orange County residents, businesses, and their economy. During safety equipment installation, upgrades, and maintenance, it is critical to have qualified and focused professional fire watch guards on site. Orange County offers free safety checks for businesses, and if anything comes up that needs to be fixed, that often means systems will be down for some time – in these instances, Fire Watch Services are critical! Off Duty Officers understand local fire codes and fire watch requirements and consistently meet and exceed expectations.
Off Duty Officers go above and beyond on Fire Watch assignments to guarantee the highest level of safety.
Fire Watch Security Requirements in Orange County
Orange County requires fire watch in many situations. In these times, it is critical to work with the best in the fire watch business and choose Off Duty Officers. Fire watch security is necessary when fire and safety equipment is down, malfunctioning, or needs replacement or maintenance. Other times when a fire watch is required are during demolition or new construction and occupancy changes that may alter safety equipment requirements. Scheduled welding and hot work processes also need fire watch services in Orange County, and customers deserve the best security guards available. We pride ourselves on the highest-level fire watch security services throughout Southern California.
Whether you are responsible for a giant corporation, a small business, or an event at a facility that will likely exceed occupancy limits, Off Duty Officers will dispatch licensed and bonded trained fire watch professionals to provide the highest level of safety to Orange County customers. Off Duty Officers have over 30 years of experience providing top-notch fire watch in Orange County. Orange County emergency services highly regard the quality and professionalism of our security guards.
Request Fire Watch Services Quote Today
Short or long term nationwide security guard services, reliably, affordable, and carefully tailored to your precise needs.
Our Exceptional Fire Watch Services Put Orange County Customers at Ease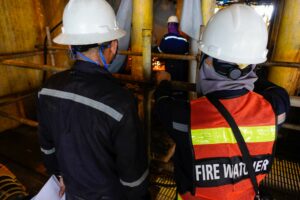 Peace of mind provides value beyond a monetary amount. During fire watch services, Orange County businesses rely on Off Duty Officers for fire watch trained security guards that specialize in fire watches and ensure compliance and excellence. Anytime safety equipment malfunctions or needs maintenance, the Off Duty Officers fire watch team is available and ready to dispatch. Sometimes, a last-minute and immediate need comes up for a fire watch. In these cases, Off Duty Officers understand it is critical to have someone onsite immediately who can begin assessing and monitoring the facility to ensure safety.
Off Duty Officers Fire Watch teams keep detailed activity logs, identify risks before they become a hazard, and act calmly and appropriately in all fire watch related incidents. Our exceptional fire watch team is known for excellent communication with clients, tenants, and emergency services. Safety always comes first. Nobody is more qualified to send skilled and qualified fire watch guards to your facility than the security and safety coordinators that work closely with Orange County customers to ensure they get the best security solution available!
The Leading Fire Watch Provider in Orange County
In 1993, retired law enforcement officers formed Off Duty Officers. Since then, we have been unwaveringly committed to top-level security and safety for all of Orange County. Every security guard is licensed, bonded, and trained specifically in fire watch security services. Off Duty Officers understand how critical it is to comply with Orange County's fire requirements and consistently meet and exceed clients' expectations. Clients who use Off Duty Officers for Fire Watch have complete coverage from beginning to end and never incur fines or unnecessary risks. We have quicker response times and more qualified professionals at the ready than any other security provider in Orange County.
So, whether your fire watch need is something you planned for or came up unexpectedly, contact Off Duty Officers for the best security team in Orange County.
Anytime you need Fire Watch Security, Off Duty Officers will always come through for you!
Request an Instant QUOTE...
Short or long term nationwide security guard services, reliable, affordable and carefully tailored to your needs.