Owned by retired Law Enforcement. Offering the best Austin fire watch services required at affordable prices.
When Other Companies Can't
Off Duty Officers Can
Choose the Best Fire Watch Guard in Austin
Austin businesses use Off Duty Officers' experienced Fire Watch teams to ensure the highest level of protection and safety in Austin. Fire watch security is onsite when fire and safety equipment is not functioning correctly, whether from construction, demolition, a special event, or an unexpected outage. Fire watches also monitor hot work and welding at facilities and construction sites. Choosing the best fire watch security services ensures the safest space and eliminates the chances of a fire breaking out.
Austin, Texas, takes safety seriously. When it comes to fire watches, it is too high a risk not to provide excellent fire watch coverage during safety equipment maintenance or installation. The City of Austin Fire Department offers free fire and safety checks for businesses. If any equipment is faulty at the time of inspection, it is up to the property owner to fix anything that is not working correctly. When a contractor performs this type of work, fire watch security ensures people and property are not at risk until all safety equipment is back up and running correctly. Austin businesses can ensure compliance with the city's Fire Marshall Code for fire watch by choosing the best in the industry with Off Duty Officers.
When You Need Fire Watch Security in Austin
Austin's Fire Code mandates fire watch in several situations, so in any of these, Austin can count on Off Duty Officers for exceptional fire watch security coverage:
When safety and fire equipment or systems are malfunctioning or need replacement.
New construction or demolition of buildings that would result in fire and safety equipment and systems being offline.
Change of occupancy status of an existing building that requires fire safety updates.
Welding and hot processes work in construction zones, warehouses, or other facilities.
Special Events that require fire watch to ensure the safety of occupants.
The requirement for businesses in Austin to provide fire watch security services when safety features are not functioning is a critical time to have trained and experienced fire watch security guards. All Off Duty Officers are insured and bonded, further protecting Austin companies. Depending on the scenario for which you need fire watch security coverage, security guards must be onsite from when the doors are open to when the last person leaves. In many scenarios, 24-hour coverage is necessary, and Off Duty Officers are prepared to do whatever it takes to provide the highest level of security to their Austin clients. If safety equipment or systems are damaged and require replacement, it may be necessary to have continual fire watch security coverage until the issue is resolved.
No other fire watch safety provider works with small businesses and large corporations to find a fire safety solution that fits their specific needs and budget. Off Duty Officers have affordable safety solutions for your Austin fire watch needs.
Request Fire Watch Services Quote Today
Short or long term nationwide security guard services, reliably, affordable, and carefully tailored to your precise needs.
Immediate Austin Fire Watch Services When You Need It Most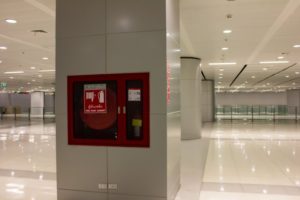 Fire watch services are required when fire protection and safety systems are down or malfunctioning. Companies will hire qualified contractors to come and fix the damage and replace any equipment necessary. Still, the fire watch team monitors things and ensures safety until all systems and equipment are fully functional. The Austin Fire Department may need to release the facility by checking all the work after completion, and Off Duty Fire Watch Security stays until the job is done thoroughly. The best fire watch guards keep detailed logs, communicate with tenants and occupants, and are expertly trained to act in emergencies. The experience and background of the Off Duty Officers Fire Watch team put clients at ease because they have someone ready to act in a crisis.
Leading Fire Watch Security Services in Austin
Since 1993, Off Duty Officers has consistently delivered top-quality fire watch security to businesses throughout Austin. We provide 24-hour fire watch services and help companies to stay in compliance with the Austin Fire Code. Complying with the requirements for fire watches keeps businesses from paying fines and keeps facilities and worksites safe.
Austin is bustling with new businesses, warehouses, new builds, construction sites, and college campuses. Off Duty Officers has over 30 years of experience providing fire watch services for all Austin's fire watch needs. You will not find a more reliable and experienced team of fire watch security guards.
Responding Promptly to Emergency Fire Watch Service Needs
Our security guard company is known for its quick response time and turnaround of last-minute fire watch requests. We are well-respected and continue to service companies of all sizes throughout Austin, Texas.
Call today for a free quote if you need a fire watch security guard or team. You will get an honest and quick response. Off Duty Officers can get someone to your facility or construction site immediately if your need is urgent, and no other fire watch provider can offer that and come through.
Request an Instant QUOTE...
Short or long term nationwide security guard services, reliable, affordable and carefully tailored to your needs.