Owned by retired Law Enforcement. Offering the best Denver construction site services at affordable prices.
When Other Companies Can't
Off Duty Officers Can
Choosing the Best Construction Site Security Solutions in Denver, Colorado
If you need construction site oversight in Denver and surrounding areas, Off Duty Officers is hands down the best security provider for the job. We have provided exceptional, reliable, and experienced professionals experienced in construction site security to Denver clients for over thirty years. The skill set required for effective construction site security and safety is unique. Denver clients can trust that Off Duty Officers only dispatch trained and experienced guards to ensure the site is as safe and secure as possible.
Off Duty Officers work side by side with Denver clients to find affordable and custom safety solutions for all size construction projects.
Off Duty Officers Sets the Standard for Construction Site Security
When it comes to the best in construction site security guards, Off Duty Officers set the industry bar high and continually come through for Denver's construction site project managers and owners. Our exceptional guards have professional backgrounds, training, and experience specific to construction site security. Many sites require 24-hour surveillance, and our roster of expertly trained guards can provide unwavering oversight throughout their shifts.
Only Off Duty Officers can dispatch highly qualified construction site security guards on short notice.
Off Duty Officers Provide Exceptional Security Coverage in the Following Areas:
Theft Prevention – tools, equipment, and finishing materials are expensive, and these assets need protection.
Protection Against Vandalism and Loitering – unwanted visitors and vandalism can set a construction project back, which means delayed timelines and more money.
Continual and 24-hour surveillance during and after the workday.
Fire watch and oversight of hot work and processes performed by workers.
Detailed log keeping and access tracking of workers, vendors, and deliveries.
Risk Assessment – identification and mitigation of vulnerabilities and high-risk situations on site.
Safety protocol oversight and emergency training for construction site incidents.
Site Security During Work Hours
Construction sites are complex, and many facets must be monitored throughout the workday. Only by using a designated and skilled construction site security guard can clients be assured the people are safe, processes are being followed, and assets are protected. Off Duty Officers trained construction site security guards monitor workers, vendors, and delivery access, keep detailed logs, oversee fire watch and other high-risk processes, and ensure safety across the site. Additionally, our construction site security experts address access discrepancies, mitigate confrontations that may occur on the site, are trained in emergencies, and act immediately whenever necessary.
Site Security After Hours
Off Duty Officers know that construction sites can be a temptation for vandalism and theft after hours. Perimeter fences and flood lights can serve as a minimal deterrent, but only using qualified and skilled live guards keep construction sites completely protected. Whether clients choose to hire armed or unarmed guards, all Off Duty Officers' construction site security personnel are licensed, bonded, and insured with military and law enforcement backgrounds in de-escalation and are effective with or without firearms.
Your Denver construction site deserves the most qualified guards, and you can only get that with Off Duty Officers. We are dedicated to seeing your construction through to completion while ensuring safety and security throughout the life of the project. Call or contact Off Duty Officers today for a free quote and lock in your construction site security team!
Request Construction Site Services Quote Today
Short or long term nationwide security guard services, reliably, affordable, and carefully tailored to your precise needs.
When It Matters, Choose the Best Construction Site Security in Denver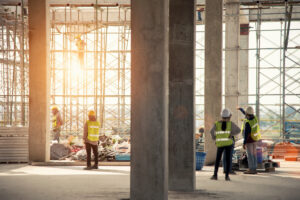 Construction projects are multi-faceted and require expertise when it comes to securing a site and keeping it safe. It is critical to work with trained and experienced security personnel who are fully vetted and can provide exceptional security coverage throughout the life of a project. Denver continues to be a hub of new construction, and every project is a significant investment of time and money. Your construction project deserves the best protection available – your project needs the expertise of Off Duty Officers, Inc.
What Sets Off Duty Officers Construction Site Security Solutions Apart?
One of the incredible things we offer our Denver clients is the fast response dispatch of the highly quailed construction site security guards who are fully licensed, bonded, and insured. We understand that sometimes a need for safety and security on active construction sites in Denver may come up at the last minute.
Only Off Duty Officers promise to dispatch only qualified and experienced guards to hit the ground running and immediately secure your construction project.
Our reputation for placing dedicated and exceptional security guards on short notice makes us the most requested security provider by Denver project managers and owners. Our insight into Denver's construction and building codes gives our guards an edge in helping meet compliance.
Off Duty Officers has more flexibility than any other security provider in Denver, and we can dispatch without a contract. We meet your construction site needs, and you are never forced into a pre-set security solution. Every client's needs are unique, and we work to find an affordable and excellent security solution that works within your timeline and budget.
Request an Instant QUOTE...
Short or long term nationwide security guard services, reliable, affordable and carefully tailored to your needs.