Owned by retired Law Enforcement. Offering the best San Jose fire watch services required at affordable prices.
When Other Companies Can't
Off Duty Officers Can
Choose the Highest Rated Fire Watch Security Services in San Jose
When it comes to fire watch safety, it is critical to ensure the highest level of protection in San Jose. Business owners are responsible for hiring the best fire watch guards to protect their San Jose sites and the people. When fire alarms or fire sprinklers are not working properly or are being installed in a new building, safety equipment is offline, and it is critical to have fire watch safety on location to ensure the safety of the people and structures so a fire does not break out. Off Duty Officers, Inc. only dispatches highly qualified, fully bonded, licensed professional fire watch safety security guards. Our security guards are specifically trained in fire watch safety and are the most requested and respected security guards serving in and around San Jose.
Our expert Fire Watch Security Personnel are trained in risk assessment, fire log tracking, San Jose's fire regulations, and emergency procedures to keep people safe. Experience working with fire and other emergency services ensures accurate reporting protects businesses from liability and ensures compliance with fire safety requirements in San Jose.
Off Duty Officers' team members arrive quickly, skilled, and ready to protect and prevent fire hazards.
San Jose Fire Watch Services
In San Jose, fire watch security is mandated in many scenarios, and Off Duty Officers provide professional safety services in the following scenarios:
Fire watch for construction site demolition and new construction
When fire safety equipment is damaged, being updated, or during regular maintenance
During tenant changes for lease buildings when safety equipment is offline
Significant events that are expected to exceed occupancy limits temporarily
During hot processes and welding work
Fire watch safety is required by San Jose Fire Code anytime fire protection systems are not functioning. Building owners and tenants are responsible for hiring licensed and bonded security guards when looking for contractors to address fire safety systems. Off Duty Officers have qualified, experienced fire safety guards available to dispatch quickly to ensure compliance. Fire watch security stays alert and on location from when the building is open to after everyone has left the premises. Off Duty Officers, Inc. also provides 24-hour fire safety watch guards upon request. Off Duty Officers, Inc. leads the industry because of consistently excellent service from our fire watch security personnel at affordable rates.
Request Fire Watch Services Quote Today
Short or long term nationwide security guard services, reliably, affordable, and carefully tailored to your precise needs.
Fastest Dispatch of Trained Fire Watch Security Guards When You Need Them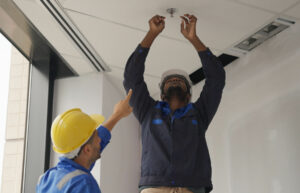 When fire protection systems are down, whether scheduled or not, building owners or tenants are responsible for hiring licensed and bonded fire watch security to ensure safety during maintenance, updates, or other work that causes the safety system to be offline. Off Duty Officers guarantees fully licensed, bonded, and insured security personnel specifically trained in fire watch services.
Off Duty Officers Leads Fire Watch Security in San Jose
We provide professional fire watch security personnel to businesses throughout San Jose. Companies and tenants that want to comply with fire marshal codes and regulations take fire safety seriously, and Off Duty Officers, Inc. does too. Our security guards provide fire watches for all types of businesses, academic and medical institutions, warehouses, new construction, and demolition sites, offering 24-hour fire watch services as needed.
San Jose businesses can rely on Off Duty Officers, Inc. for affordable fire watch service rates and excellent service from the quote to the end of the assignment. Our specially trained fire watch guards deliver when it counts. When fire safety equipment is offline, our fire watch guards won't let you down whether safety systems are offline due to malfunctioning, installation, or maintenance.
Speedy Fire Watch Dispatch When It Counts
Off Duty Officers, Inc. has someone answering quote requests 24 hours a day. Our established relationships with skilled fire safety guards make quickly dispatching qualified professionals possible. Our security response crew stays on site and ensures fire safety for the people and structures in San Jose. Since 1993, we have been successfully helping businesses in San Jose stay safe with exceptional fire watch services.
Request an Instant QUOTE...
Short or long term nationwide security guard services, reliable, affordable and carefully tailored to your needs.