Owned by retired Law Enforcement. Offering the best Los Angeles fire watch services required at affordable prices.
When Other Companies Can't
Off Duty Officers Can
Choose the Best Fire Watch Guard Solution in Los Angeles County
When it comes to ensuring the highest level of fire watch protection in Los Angeles, businesses must have fire watch guards on-site when fire sprinklers and fire alarms are offline due to malfunction, new systems are being installed, or existing equipment is being fixed or replaced.
Without the experience and training of licensed and insured fire watch security personnel, the risk of something going wrong is too high. Qualified and trained fire watch security guards know fire watch protocols and follow them, keeping fire watch logs, following guidelines precisely, clearly communicating to occupants of the building, and notifying fire emergency services if an emergency occurs. Our team of fire watch security guards are fully trained and arrive ready to protect and prevent fires.
What Services Do Los Angeles Fire Watch Services Provide?
Due to the fire watch mandate in Los Angeles, experienced fire watch security guards are part of a mitigation effort when the following occurs:
When fire safety equipment is malfunctioning.
When a facility or construction site is being built or under demolition.
When a building is used for a different classification than its occupancy type.
When hot work processes or welding are scheduled at a construction site or facility.
When a special event is planned that would require fire watch services.
When fire protection systems are not functioning correctly, and the owner must hire a contractor to address these issues, fire watch safety is required to ensure safety and prevent fire hazards. Off Duty Officers' Fire Watch Team is bonded and licensed to guarantee the highest level of fire watch coverage. To comply with mandatory fire watch services, security personnel must be on-site for the entire length of time necessary until all fire equipment is properly working. The best fire watch security personnel stay focused on minimizing risk during increased fire danger. Trained fire watch security guards work continually, day and night until all fire equipment is replaced, installed, or fixed. All fire equipment will be tested and confirmed functional and safe by the Los Angeles Fire Marshall and ensure all necessary paperwork is done as part of their complete service.
Request Fire Watch Services Quote Today
Short or long term nationwide security guard services, reliably, affordable, and carefully tailored to your precise needs.
Los Angeles Fire Watch Services Available When You Need It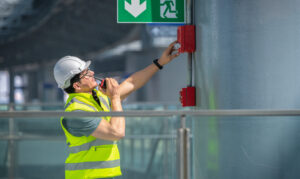 Most fire watch needs can be predicted, but there are times when fire watches are necessary without notice and urgently. Off Duty Officers has a roster of licensed and bonded fire watch guards that can dispatch immediately.
Leading Los Angeles in Excellent Fire Watch Security Services
Fire watch security is required when fire protection features, equipment, and systems are down until a qualified contractor addresses all issues. Fire watch personnel are trained to work extended shifts and ensure the highest level of safety for occupants. We provide professional fire watch services to businesses 24 hours a day in Los Angeles. Companies that want to comply with required fire codes when fire equipment, like sprinklers and alarms, are down can count on the best fire watch guards in Los Angeles with Off Duty Officers licensed and bonded fire watch security personnel.
Off Duty Officers provide Los Angeles businesses with fire watches and have decades of experience placing trained and qualified security guards at construction sites, warehouses, academic facilities, and other businesses.
If any fire equipment malfunctions or is being replaced or installed for the first time, it is essential that business owners make the best choice when it comes to fire watch security personnel. There is too much at stake regarding fire safety, which is why Off Duty Officers provide the necessary fire watch services from beginning to end. The unique training for fire watch includes accurate log reporting, clear communication, and familiarity with fire watch protocols for Los Angeles.
Emergency Fire Watch Services in Los Angeles
Our security guard company promptly replies to Fire Watch Services requests in Los Angeles. Off Duty Officers have trained, experienced, licensed, and bonded guards ready to dispatch. Our team of fire watch personnel will stay on site until sprinklers, alarms, and other safety equipment and completely operable and confirmed by the Los Angeles County Fire Marshall.
Off Duty Officers continue to provide the highest quality and most reliable fire watch services throughout Los Angeles County. We pride ourselves on customer service, quality, and response time excellence. Since 1993, Off Duty Officers have placed fire watch security personnel for enterprises and small businesses. Our Fire Watch Security Guards are respected and remain the nation's leading fire watch security service available throughout Los Angeles.
Request an Instant QUOTE...
Short or long term nationwide security guard services, reliable, affordable and carefully tailored to your needs.