Owned by retired Law Enforcement. Offering the best San Diego construction site services at affordable prices.
When Other Companies Can't
Off Duty Officers Can
Choose the Best Construction Site Security Guard Solution in San Diego County
Construction projects can range in complexity, but the money and time invested are worth protecting regardless of size. The best way to protect a construction site and ensure timely project completion is to have skilled construction security guards overseeing activity throughout.
Off Duty Officers have highly trained and experienced construction site guards on call, available to dispatch immediately. When it comes to protecting workers, contractors, structures, equipment, tools, and finishes, only live construction site security patrols can ensure the highest level of protection for construction sites.
Construction Sites Are Complex and Need High-Level Security Guard Attention
A busy construction site can seem chaotic to an outsider looking in when it is in full swing. Security guards trained in construction sites masterfully handle multiple tasks and provide continuous surveillance.
Unfinished structures, machinery, hazards, and the continual flow of people in and out can leave construction sites vulnerable to hazards and theft. Off Duty Officers' construction site security guards have been trained to handle and monitor all construction site activities. They have inside knowledge of common threats and hazards typical to construction site activity.
Construction sites are high-risk safety areas due to the number of people working at one time, unstable scaffolding or temporary structures, and the use of heavy equipment. Site development takes time and having construction site guards help keep projects moving forward safely.
Construction Site Guards Remove Project Delays
Trained construction site security guards help minimize project delays in many ways. One significant way to increase safety is by limiting access and monitoring traffic in and off-site—tracking who and when people are on-site saves time and money ultimately because guards help control the environment. Daily activity monitoring with attention to safety and security ensures those with access have it and those who should not have it do not. Tracking and logging vendors and contractors is incredibly helpful to construction project managers if anything occurs.
Another valuable service Off Duty Officers' construction site guards provide 24-hour worksite watch to ensure theft, vandalism, loitering, and illegal access do not occur. These things can significantly delay a project, increase liability, and cost money. Construction sites have expensive equipment, hazardous areas, and valuables throughout a project. Only highly trained construction site security guards have the skill and focus training to prevent mishaps.
Large Construction Site Security Teams Elevate Site Safety and Surveillance
Large construction projects may include multiple properties, as well as remote surveillance that needs to be monitored. Due to the extensive training of Off Duty Officers' construction site guard teams, safety and security needs can be met with a skilled team of professionals.
Daytime Construction Site Guards
Daytime construction site activity is busy with workers, deliveries, and movement. During the daytime, construction site security guards watch over construction and traffic flow to ensure the highest level of safety for everyone on site. Guards provide a designated set of eyes on climbing, electrical, and heavy items in the air. In the case of an emergency, the expert medical emergency training and certifications of Off Duty Officers' construction site guards can treat someone immediately until emergency services arrive.
After-Hours Construction Site Protection
After-hours construction sites have some of the highest crime attempts in San Diego County. Theft and vandalism are the main culprits of delayed project timelines and unexpected construction costs. Instead of worrying about missing deadlines or asking for more money to complete a project, use qualified construction site guards for a proactive approach to successful project completion. The presence of security guards after-hours on construction sites deters trespassers and serves as a direct line to authorities.
Request Construction Site Services Quote Today
Short or long term nationwide security guard services, reliably, affordable, and carefully tailored to your precise needs.
Immediate San Diego Construction Site Services When You Need It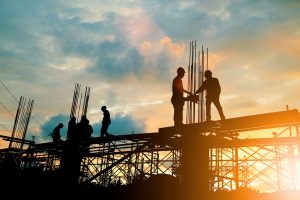 What Can Clients Expect From Off Duty Officers?
Experience – from the initial call for a free quote to the arrival of the construction site security guard or team, the level of unmatched expertise is clear from beginning to end.
Honesty – clear and frequent communication to ensure clients are getting everything they need, are satisfied with their security guards, and have any questions they have answered without delay.
Loyalty – Off Duty Officers is loyal to their clients and the roster of construction site guards available. Off Duty Officers has excellent, long-standing relationships with security guards and clients.
Off Duty Officers is the leading San Diego construction site security company.
We provide professional 24-hour construction site services to businesses throughout San Diego. Our security guard firm provides the best construction site security services in San Diego. 
Off Duty Officers want every client's construction project to succeed. Being able to work successfully to provide clients with construction site security needs is what Off Duty Officers security guards do better than any other provider in San Diego County. Construction is the foundation of homes and businesses, literally. Companies that want to provide the highest rate of timely success on construction projects should consider investing in quality security guards to ensure the safety of the people and top-level protection of assets and property.
Prompt reply for last minute construction site security services.
Our security guard company promptly replies to construction site security need requests and will dispatch only the most qualified personnel. 
Off Duty Officers have provided construction site security guard services to small and enterprise businesses in the United States since 1993. Our Construction Site is respected as the USA's leading construction site security company.
Request an Instant QUOTE...
Short or long term nationwide security guard services, reliable, affordable and carefully tailored to your needs.