Owned by retired Law Enforcement. Offering the best Orange County construction site services at affordable prices.
When Other Companies Can't
Off Duty Officers Can
Choose the Best Construction Site Security in Orange County
Orange County is one of the busiest areas in Southern California when it comes to active construction sites. Whether large or small construction projects, the investment is worth protecting with 24-hour security personnel uniquely trained to provide exceptional protection to the construction site during and after work hours. Identifying risks, mitigating issues, and providing watchful oversight are just a few things that Off Duty Officers do better than any other construction site security provider in Orange County.
Off Duty Officers Construction Site Security Set Apart by Excellence
All construction sites have several risks they must consider, and that is why it is critical to utilize the expertise of the Off Duty Officers' security team when providing safety and security for your construction site. Orange County depends on Off Duty Officers to protect the workers, the assets, and the safety of work performed on-site, including fire watch services and experience in emergencies.
The law enforcement and military backgrounds of all construction site security guards dispatched by Off Duty Officers have been extensively trained with years of work experience on construction sites. All security guards are bonded, licensed, and have all the required certifications that qualify them for construction site security jobs. Off Duty Officers understand that reducing overall liability on construction sites in Orange County is vital to the project's success. Providing peace of mind to project managers, employees, and investors, Off Duty Officers is unmatched in construction security experience, professionalism, and availability.
Exceptional Services provided by Off Duty Officers:
Professional 24-hour surveillance and monitoring.
Orange County's top-rated construction site security provider.
Short and long-term personnel trained in construction site safety and security.
Emergency trained, certified, and experienced.
Licensed, insured, and bonded for construction site locations.
Available to dispatch with short notice and for immediate needs.
Armed and unarmed security options are available.
Affordable and excellent security solutions for all size construction sites in Orange County.
Our professional and reliable construction site security guards keep assets, equipment, and finishing materials safe while ensuring safety protocols are followed. We provide the best construction site security services anywhere in Orange County. Our expert team can identify suspicious behavior, deter crime and vandalism, and deal with conflict on the site, including loiterers and those without authorized access. Off Duty Officers is the only construction site security provider that offers full-service security personnel while guaranteeing the highest level of protection to construction site managers and owners. Construction sites are big business in Orange County, and when it matters, it makes sense to work with the best in the industry to protect your investment.
Our experienced team of construction site security guards wants to see your project completed on time and within budget. We understand that vandalism, theft, and other occurrences can significantly delay projects and increase time and materials.
We are 100% committed to serving in the highest capacity to ensure these things do not happen on your Orange County construction site.
Request Construction Site Services Quote Today
Short or long term nationwide security guard services, reliably, affordable, and carefully tailored to your precise needs.
Top Reasons for Construction Site Security in Orange County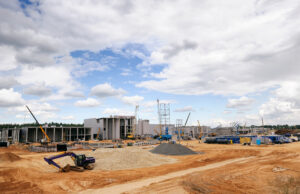 Emergency Security Services – our professional construction site security team act immediately in emergencies and are trained and certified in First Aid and other valuable life-saving skills needed on construction sites.
Traffic Monitoring and Access – These areas must be closely monitored to meet Orange County guidelines between contractors, deliveries, and scheduled events at construction sites. Safety is the priority, and monitoring and tracking foot traffic and keeping people out of danger are at the core of their role on the construction site.
Construction Budgets Include Security – Today, most construction projects have a budget for safety and security. When it matters, invest your security funds in protection you can trust to come through and provide the best security services on your construction site. Call off Duty Officers today for an affordable quote.
Minimize Liability and Chance of Project Delays – any mishap on a construction site in Orange County can cause project delays, and theft can significantly postpone a project's completion. Only using the best security guard personnel equipped and trained in construction sites can offer the highest level of security and safety, no matter the size of the project.
Unique Construction Site Security Training
Did you know construction sites across Orange County depend on professionally trained security guards from Off Duty Officers? We have faithfully served construction site clients for over thirty years, and we continue to be ranked the highest in quality and reliability.
Construction site security guards must have a unique skill set to guarantee the highest level of safety and security for the people, property, and assets on site. Large equipment and tools cost money and can be challenging to replace, which causes delays. Delays cost money, and our security team recognizes the importance of staying alert, mitigating issues ahead of time, and avoiding project delays by keeping the area clear and safe.
Additionally, Off Duty Officers have insight into Orange County safety regulations for construction sites and work with clients to keep detailed logs and track anything relevant to the safety and security of the site.
When you hire Off Duty Officers for your construction site security needs, you work with the industry's best.
There is no construction site in Orange County that Off Duty Officers can't protect and keep safe and secure throughout the life of your project. Call or get an instant quote online today!
Request an Instant QUOTE...
Short or long term nationwide security guard services, reliable, affordable and carefully tailored to your needs.