Owned by retired Law Enforcement. Offering the best Austin construction site services at affordable prices.
When Other Companies Can't
Off Duty Officers Can
Choose the Best Construction Site Security Guard Solution in Austin
When securing Austin construction sites, experienced construction-trained security guards prevent vandalism and theft and peacefully resolve conflicts onsite. Our guards are masterfully trained in de-escalation techniques to avoid injuries and losses throughout the project's life. Security presence brings instant order to a construction site. Hiring Off Duty Officers to oversee your construction project in Austin ensures the highest level of safety for workers, business owners, contractors, and staff. There are too many unnecessary risks when not working with a professional security guard provider specializing in construction site teams that can dispatch promptly throughout Austin. The knowledge and experience of Off Duty Officers are extensive and protect your investment.
Trained security personnel from Off Duty Officers provide well beyond just site security. Our wide range of services includes alarm and access monitoring, log keeping, visual and video surveillance, and fire watch duties. Construction security guards protect the entire site and perimeter from criminals looking for equipment and tools to steal. Construction site security personnel elevate the safety and security of the premises and deter intruders. Whether choosing armed or unarmed guards for your construction site project, continuous surveillance and overwatch minimize risk and loss on construction projects throughout Austin.
Construction Site Security Guard Services
Austin's construction sites should consider professionally trained security guards for their projects. Any other security guard provider can't match the number of services and value added by hiring Off Duty Officers in Austin. Any construction project would benefit from the services we offer:
Theft and vandalism prevention.
Deterrent against illegal activity.
Protection of workers, employees, and visitors.
Access control, monitoring, and tracking.
Expertise in Austin's safety regulations and compliance guidelines.
Professional communication and de-escalation training.
Identification of hazards and providing additional monitoring as necessary.
Hot work and welding fire watch.
Immediate Construction Site Security Needs Met and Exceeded
Despite your construction site security need, Off Duty Officers has the most expansive roster of background-checked, licensed, bonded, and insured security personnel in Austin. There is no waiting once you decide you need coverage, and Off Duty Officers guarantee the highest quality guards with the training and expertise you need. We have over three decades of working with Austin companies to find affordable security solutions.
Our expert construction site security guards monitor your site and the perimeter and meticulously always track access and activity in and around the area. Our professionally trained security personnel watch for suspicious or erratic behavior that may be dangerous to people or property. The best security personnel are trained to use force as necessary to ensure the safety of everyone. We have construction site security guards to work on short- and long-term assignments. Our team of construction site security guards oversees, protects, prevents, and performs certified emergency services.
Off Duty Officers is the leader in affordable custom security solutions in Austin.
If you need construction site security in Austin today, get a free online quote, or call 24 hours a day for an immediate response.
Request Construction Site Services Quote Today
Short or long term nationwide security guard services, reliably, affordable, and carefully tailored to your precise needs.
Why Construction Site Security Guards?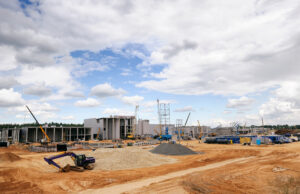 The constant activity of people, trucks, and equipment coming in and out of a construction zone in Austin makes it a dangerous place. Criminals know that these sites are easy targets for theft if not monitored by security. The expensive equipment, tools, and finishing materials can be easy money for thieves. The National Insurance Crime Bureau reports that unmonitored construction sites have become one of the most targeted locations for crime.
While workers are present, someone should be qualified to ensure safety equipment is worn and processes are followed according to Austin and federal regulations. Fire watch is a service that only Off Duty Officers can provide while on assignment. We understand only some things can be scheduled, so our highly trained officers are prepared to fill this role as needed during construction.
Whether it is loss of property or safety hazards keeping you up as you think about your construction project, put your mind at ease and hire a professional construction security team from Off Duty Officers. If you have a project in Austin, hiring the best in the business is in your company's best interest.
Emergency Preparedness and Response
Off Duty Officers' dedication to training and equipping our construction site security specialists includes extensive emergency training. Construction sites are unique in the required tasks and heavy equipment used throughout the day. Our security guards function as emergency responders and ensure emergencies and injuries are treated and not left unnoticed.
Our security personnel is equipped to handle any weather concerns common to Austin and respond to situations that may threaten people's and equipment's safety. Construction sites must be closely monitored because anyone on site that is not supposed to be there automatically becomes a liability. Off Duty Officers are trained to closely monitor who has authorized access, even on different days or stages of the project. Having someone qualified to watch for trespassers eliminates many issues, including vandalism and property damage.
If you are responsible for securing a construction project in Austin, do not wait and contact us today for a free quote. We pride ourselves on providing the best construction site security and are fully insured, bonded, and licensed. Off Duty Officers is the industry leader for top-level construction security.
Request an Instant QUOTE...
Short or long term nationwide security guard services, reliable, affordable and carefully tailored to your needs.