Owned by retired Law Enforcement. Offering the best Denver fire watch services required at affordable prices.
When Other Companies Can't
Off Duty Officers Can
Choose The #1 Fire Watch Security in Denver
Denver businesses can ensure the best, most reliable, professional fire watch protection services with Off Duty Officers Fire Watch Security. To best meet the Denver Fire Code requirements for fire watch during any fire safety equipment installation or repairs, businesses must utilize experienced fire watch security guards to ensure safety while equipment or systems are offline.
Experience and training count when it comes to Fire Watch Safety in Denver, Colorado. Off Duty Officers offer licensed, bonded, and highly experienced fire watch personnel for construction sites, buildings under new construction, or demolition. Additionally, the expertise of the fire watch guards provides exceptional fire watches at academic institutions and campuses, facilities experiencing changes in occupancy type, and buildings that have an event that may exceed capacity.
Denver Fire Watch Services
Compliance with Denver's Fire Watch requirements ensures safety during any period with increased fire hazards and is part of an ongoing mitigation effort for the state. Scenarios when Fire Watch Safety is required are:
During safety equipment installation and replacement.
During new construction or demolition.
During a building's transition from one occupancy type to another.
During scheduled hot work processes and welding at construction sites or facilities.
During special events that require fire watch services to ensure occupant safety.
Denver's small and enterprise business owners must provide fire watch security during work being done to fire or safety equipment. When a contractor is hired to perform maintenance, fire watch security guards must be on site to comply with Denver's Fire Watch Requirements. Fire watch personnel are trained and experienced in handling all tasks associated with fire watch, including log keeping, clear and open information sharing, professional and calm guidance during an emergency, and knowledge of how to communicate with other emergency services in case of an emergency. Companies of all sizes can rest knowing that Off Duty Officers Fire Watch Guards are ready to provide protection and safety.
Off Duty Officers' fire watch team stays on-site until all fire and safety equipment is working correctly and cleared by the Denver Fire Department. Able to work 24-hour shifts and provide excellent coverage throughout, only Off Duty Officers lead the nation in fire watch safety in quality and reliability.
Request Fire Watch Services Quote Today
Short or long term nationwide security guard services, reliably, affordable, and carefully tailored to your precise needs.
Urgent Fire Watch Needs Met by Off Duty Officers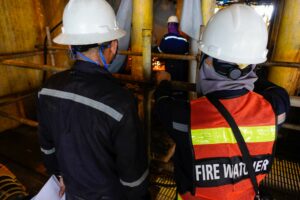 Not every fire watch need can be predicted and planned for; this is when we can fill urgent needs that other fire watch security guard providers can't. The roster of licensed and bonded fire watch guards is immediately available to dispatch throughout the Denver area. Whether a well-planned fire watch security need or a last-minute and unexpected necessity, only one Fire Watch Security provider can guarantee skilled and professional security personnel to Denver businesses.
Denver's Leading Fire Watch Service Provider
When it comes to providing the best fire watch security in Denver, companies rely on Off Duty Officers. We offer consistent and reliable excellence, and it is what we guarantee our Denver customers. Over three decades of successfully keeping fire watch for Denver businesses since 1993. We are considered the leader in fire watch security personnel throughout the Denver area and value every customer!
Providing fire watch security from when the doors open to when the last occupants are gone, trained fire watch security personnel continue to watch over the facility and construction sites to ensure the highest level of safety whenever fire equipment is malfunctioning or not working correctly. It should not be underestimated how critical a fire watch is during any safety and security system's downtime. Using licensed and bonded fire watch security guards ensure Denver companies receive the highest quality service during fire watch.
Denver companies looking for exceptional fire watch security personnel can depend on Off Duty Officers to send qualified, experienced, and excellent personnel. Fires can spread quickly, and only trained fire watch guards identify risks and hazards before they become dangerous. There is too much risk in skipping fire watch during safety equipment downtime, and we offer affordable fire watch rates for small companies and large enterprises. If you have an immediate fire watch security need, contact Off Duty Officers today for a free quote, which can be done online or by calling (844)350-5628. If you own a business or have a construction project or renovation on the horizon, call ahead for a quote and lock in your fire watch security team.
Fire Watch Emergency Services in Denver
Denver businesses care about choosing the best fire watch security company in the area. A fire watch is essential to keeping Denver safe when it comes to fire and safety equipment that does not work properly. Fire watch security personnel know the intricacies of fire watch and always respond appropriately to hazards and emergencies. Emergency services in Denver respect the fire watch skills of Off Duty Officers Security Guards.
Request an Instant QUOTE...
Short or long term nationwide security guard services, reliable, affordable and carefully tailored to your needs.