Owned by retired Law Enforcement. Offering the best Riverside construction site services at affordable prices.
When Other Companies Can't
Off Duty Officers Can
Choose the Best Construction Site Security Guard Solution in Riverside County
If you are looking for the best construction site security services in Riverside, look no further. Off Duty Officers is the leading security provider for construction sites throughout Riverside County. Construction sites require trained and experienced security guards who understand the money and time invested to see projects completed safely and within budget. Off Duty Officers is the only construction site security provider that offers affordable pricing, can supply qualified guards with short notice, and provide different construction site security solutions that cater to small and large projects in Riverside.
What Services Does Construction Security Provide in Riverside?
When working with Off Duty Officers, you will have the best in the business overseeing your entire construction site. When security guards are trained and certified to perform construction site security duties, customers are ensured of the following:
Theft prevention of large and expensive equipment and tools.
Immediate de-escalation and handling of loitering and unauthorized visitors.
Oversight to prevent vandalism attempts.
Professional and meticulous tracking and monitoring of all traffic in and out.
Continual surveillance video monitoring as well as mobile surveillance of site perimeter.
Fire Watch during hot work or welding processes.
Accurate reporting of vulnerable areas and risks that can be addressed and monitored closely.
Safety protocol oversight.
Emergency training to handle unexpected incidents.
What Makes Off Duty Construction Site Security Exceptional?
Off Duty Officers has provided the highest level of trained, insured, and bonded security guards to Riverside County construction sites for over thirty years. There is no competitor with the same experience and familiarity with Riverside, and that matters when placing critical security personnel on your construction site.
We have skilled security teams ready to dispatch to Riverside more quickly than other providers. Whether you need 24-hour surveillance or oversight during working hours, we can find the perfect fit for your construction site security needs. Choosing a security guard to be armed or unarmed is at the client's discretion. It allows Off Duty Officers to customize a security solution to ensure successful project completion without disruptions, delays, and extra costs.
We have years of experience and can manage any situation you find your company in, so get a free quote today, which you can do online or by calling. If you need construction site security personnel, there is no better choice than Off Duty Officers. All officers are fully bonded and insured and provide excellent service that has helped Riverside companies see the timely and successful completion of large and small construction projects.
Request Construction Site Services Quote Today
Short or long term nationwide security guard services, reliably, affordable, and carefully tailored to your precise needs.
When You Need Riverside's Top Construction Site Security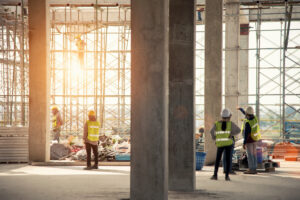 If you are in charge of a large or small construction project in Riverside, the responsibility to keep the site safe and secure can be met using highly trained and expert construction site security personnel. Using Off Duty Officers, clients no longer must worry about the site's safety because you have designed personnel to oversee everything from compliance with safety requirements to keeping unauthorized visitors off the site. If you are responsible for a construction site in Riverside, your project deserves protection. Ultimately, investing in construction site security will save time and money and ensure successful project completion.
During the length of a construction project, there are many stages. Many times, if an event is scheduled at the construction site, having professionally trained security guards on site elevates these events when it comes to higher levels of safety and security. If you have a security budget worked into your construction project, work with Off Duty Officers to find an affordable solution that meets the unique needs of your project.
No other construction site security company has the flexibility we do – we work to find solutions for our clients, not ask them to conform to one of our pre-designed security plans.
Off Duty Officers do not require a contract to dispatch.
We offer 24-hour construction site security throughout Riverside County. With faster response time and a roster of trained, licensed, and qualified construction site security guards, Off Duty Officers is equipped to dispatch for your last-minute needs. Our decades of experience, insight, and knowledge of construction sites in Riverside allow us to place the right people with the proper training the first time. Preventing theft, keeping workers safe, and acting in emergencies means your construction project in Riverside will succeed with the help of the Off Duty Officers' construction site security team.
There is no construction site in Riverside that Off Duty Officers can't protect and keep safe and secure throughout the life of your construction project. Project managers, owners, and investors will have peace of mind knowing the best security is on the job, ready to act, and keeping watch over the site, the people, and the perimeter.
Call (844) 293-7358 or get an instant quote online today!
Request an Instant QUOTE...
Short or long term nationwide security guard services, reliable, affordable and carefully tailored to your needs.