Owned by retired Law Enforcement. Offering the best Los Angeles construction site services at affordable prices.
When Other Companies Can't
Off Duty Officers Can
Choose the Best Construction Site Security Guard Solution in Los Angeles County
Los Angeles construction sites deserve highly trained professional construction site security guards. Off Duty Officers understand the investment of time and money involved in construction projects in Los Angeles. Our exceptional construction site security guards know the unique risks of having a construction site in busy Los Angeles. We guarantee that licensed, bonded, and insured security guards arrive on the construction site ready to protect and serve our Los Angeles clients.
Off Duty Officers Construction Site Guards Are Set Apart
Construction companies face many risks on construction sites, but the best construction site security guards in Los Angeles protect workers, assets and reduce overall liability. Experts in identifying risks, hazards, and quick responses to injuries minimize the likelihood of project delays.
Our background-checked, insured, bonded, and certified construction site security guards protect construction site projects in Los Angeles and give project managers and owners peace of mind.
Off Duty Officers provide:
The best construction site security services in and around Los Angeles.
Armed and unarmed construction site security solutions, making it affordable.
Short and long-term assignment personnel.
24-hour surveillance ability.
Quick response and dispatch of highly qualified construction security personnel.
Insured, bonded, and licensed construction site guards.
Emergency trained and certified guards.
Qualified guards are ready to dispatch at the last minute.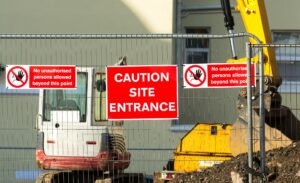 Our construction site security teams safeguard valuable assets, equipment, and finishes while ensuring those on-site follow safety protocols. Off Duty Officers are dedicated to providing excellent service to Los Angeles construction site clients. They are experts in identifying suspicious behavior.
Emergency Security Guards for Construction Sites
The experience and training of all Off Duty Officers' construction site guards allow them to act and provide professional emergency services.
The best construction site security guards protect and keep your project safe and secure. Construction site security takes their roles very seriously because of your investment to see the project through to completion. Expensive equipment and materials should be protected throughout the project to avoid delays in the timeline and increased costs. Having someone overwatch for safety ensures that employees, workers, and contractors follow safety guidelines. Having the best construction security is the only way to ensure your construction site is safe.
Four Reasons You Need the Best Construction Site Security
If you are responsible for a construction site in Los Angeles and do not have a security team, you are putting your project at risk, including the people and your investment.
Any special delivery or scheduled event at the construction site in Los Angeles will require someone with training in handling foot traffic and keeping people out of danger.
Many construction projects are budgeted to have construction site security. If this service is part of your budget, Off Duty Officers has the most affordable and qualified construction site security services in Los Angeles.
Investing in construction site security for big or small projects minimizes the liability of the construction site and prevents theft, vandalism, and loitering.
Request Construction Site Services Quote Today
Short or long term nationwide security guard services, reliably, affordable, and carefully tailored to your precise needs.
Why Hire Construction Site Security in Los Angeles?
One of the top reasons to hire high-quality construction site security guards in Los Angeles is to prevent crimes and ensure the safety of workers, staff, and contractors. Hiring security personnel for your construction site greatly reduces project downtime and liability. Construction site security guards may also serve in fire watch capacity during hot work or welding.
Ensuring construction site security personnel are trained and qualified in safety and security regulations for Los Angeles is critical. Violating these regulations can cost you money and time. Only Off Duty Officers are committed to helping you meet your construction project timeline within budget by preventing hazards, dangers, and disruptions.
Construction Site Security Services:
Prevent theft, loitering, and vandalism.
Monitor in and out traffic and surveillance equipment.
Protect site perimeter.
Fire Watch
De-escalation of conflict
Safety protocol oversight
Emergency training
The construction site security team at Off Duty Officers can execute their roles armed or unarmed, which makes security for any project affordable and reliable.
When working with Off Duty Officers, the expertise of the construction site security guards prevents crime and keeps the facility safe from trespassers that are a liability. Construction site security guards provide these services at construction sites in Los Angeles:
Access control – monitor and log in-and-out traffic.
Alarm control – visual or mobile monitoring of the entire site 24 hours a day
Provides a visible deterrent against theft and intruders.
Emergency training.
Perimeter maintenance and safety.
Identification of vulnerable areas and monitoring them more closely as necessary.
Provides thorough reports to the site manager.
De-escalate conflict and minimize losses and injuries.
Off Duty Officers ensure the highest quality of construction security services throughout Los Angeles. Our professional security guards provide excellence at small and large construction sites. We have provided the leading construction site security teams throughout Los Angeles for over three decades. Los Angeles is a crowded construction site location, and 24-hour monitoring is recommended to prevent unauthorized access. Our trained and experienced construction site security guards handle issues with denied access and resolve these issues on your behalf.
There is no construction site in Los Angeles that Off Duty Officers can't protect and keep safe and secure throughout the life of your project. Call or get an instant quote online today!
Request an Instant QUOTE...
Short or long term nationwide security guard services, reliable, affordable and carefully tailored to your needs.