Carmel's Best Rated Security Services
Armed Guards or Unarmed Security Guards in Carmel, CA
Obtain the best armed security guard services required at affordable prices.
When Other Companies Can't
Off Duty Officers Can
# 1 Security Guard Provider Carmel California
Carmel-by-the-Sea, or referenced simply as Carmel, is in Monterey County. Carmel is known for its natural scenic landscape and rich history in art. Many artists call Carmel their home, including the city's list of poets and actors who held the position of mayor, most notably Clint Eastwood. The history of Carmel runs deep, and Mission San Carlos Borromeo de Carmelo is arguably the most beautiful mission one can visit in California. Carmel residents and businesses work diligently to maintain the quaint character of its town of just over 3,000 people despite the growing population of year-round visitors.
Carmel's dedication to maintaining the natural beauty and unique feel of the town is a top priority, continuously investing in the safety of those who live and visit there. Off Duty Officers, having served the Carmel community for more than 30 years, has highly qualified and trained personnel familiar with Carmel's small-town feel, and they understand the nuances of serving as a security officer in this incredible town.
Whether working, living, or planning an event in Carmel, the safety of people and integrity of security is vital to maintain the standard Carmel has for safety and security. Off Duty Officers does not require contracts and can dispatch skilled and trained guards quickly for your security needs. We always have a security coordinator standing by to provide free quotes and help you decide the security solution that is a perfect fit for what you need and fits your budget - we will never oversell you security services! Off Duty Officers is unmatched in reputation, quality, and availability of security guards for the Carmel area.
If you have a security need in Carmel, we can find the best solution for you or your business today.
Off Duty Officers is owned and operated by retired police and military officers, and for more than thirty years, have been helping ensure the safety of people, properties, and towns across the nation.
Contact Off Duty Officers Carmel today for your free quote. Call 844-219-3521 to speak with one of our dedicated security experts. 
Off Duty Officers Understand What Carmel Wants When It Comes to Security and Safety
We offer the only full-service security solutions for Carmel residents and businesses. When it comes to safety and security in Carmel, Off Duty Officers has trained and effective guards, armed and unarmed. We have fully uniformed guards as well as street attire guards that may fit better into a private event or venue. No matter what the security needs, Off Duty Officers can provide it. We are known for continually going above and beyond the call of duty for our Carmel customers. Carmel is a busy town, hosting weddings, dog shows, and art exhibits yearlong in addition to town gatherings requiring extra safety for attendees. Our security guards are requested back due to their diligence, professionalism, exceptional customer service, and dedication to safety and security.
Carmel Private and Large-Scale Hosted Events
When Carmel is decided as the location for a special event, whether private or corporate, adding security puts event planners at ease because they can do their job knowing that people, property, and assets are secure and protected. Even though Carmel has a quaint feel, the area is home to many valuable and irreplaceable assets as well as beautiful homes to protect. Suppose you are hosting a private event at your home. In that case, Off Duty Officers event security guards ensure access is limited to your designated guest list and manage disruptions without causing a scene. Our guards are trained in CPR, emergencies, and conflict resolution. Off Duty Officers is an event planner's dream, which is even more true for more significant corporate events. Dog shows and other annual events deserve high-quality safety, and Carmel residents deserve protection when they attend events. Our security coordinator works closely with you to determine your security needs and then finds a security solution to meet your budget.
Art Gallery, Restaurant, Historical Monument, and Retail Security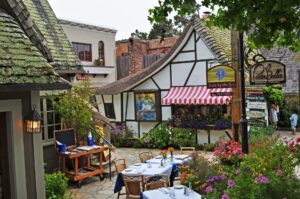 When one visits Carmel, it can be challenging to pick a favorite thing. Carmel has the scenic beauty of its natural surroundings, an abundant art presence, one of the most beautiful missions in the state, and plenty of shops and eateries to enjoy – not to mention the wineries in the area. One of the things that Off Duty Officers is known for is the ability to adapt to each unique security need and make it seamless for the Carmel customer. If anything planned may exceed occupancy, it is a safety issue that trained professionals should handle. Off Duty Officers know the noise and occupancy ordinances in Carmel, handle crowd control expertly, and work to adhere to safety guidelines while allowing events to run smoothly.
No other security provider offers a hassle-free quote, so call today if you live or work in Carmel and are planning an event.
#1 Security Company in the Nation
We pride ourselves on professional security services, including private security, armed guard security, event security, residential security, retail security and more. Contact us today for a FREE instant quote.
Carmel's Most Highly Rated Security Provider
We offer the most comprehensive security solutions in the industry and only dispatch insured, bonded, and licensed security personnel quickly to Carmel. Carmel prides itself on the feel of the town, and Off Duty Officers wants to come alongside you to provide the highest-rated security and safety available. Our security experts arrive on the job and hit the ground running, always beginning with a thorough risk assessment for every location. Our security experts often identify vulnerabilities that can be mitigated ahead of time, saving time and money for our Carmel clients. When it comes to the security of the people and town of Carmel, do not leave safety to chance and hire the best security officers in the area.
Off Duty Officers Carmel Security Services
We want our Carmel customers to be confident that you are getting the best security services available when you hire Off Duty Officers. Hiring security guards does not need to be overwhelming, and our coordinator is dedicated to helping you. Our expert coordinator will never oversell our services and is now available to offer a hassle-free quote.
We have been serving Carmel residents and businesses for more than 30 years and are equipped and experienced in protecting residents, businesses, and venues. There is no job we will not cover, no job too small or large, where we can't provide exceptional security personnel.
Contact Off Duty Officers today for the best safety and protection in Carmel-by-the-Sea. Call our friendly and professional security coordinator today at 844-219-3521 for a friendly, easy quote.
Cities We Provide Security to in California
Request an Instant QUOTE...
Short or long term nationwide security guard services, reliable, affordable and carefully tailored to your needs.